Cerina Vincent
Cerina Vincent - Not Another Teen Movie (2001)
 0:09:03 141.76 MB  720p mp4    
Not Another Teen Movie (2001).mp4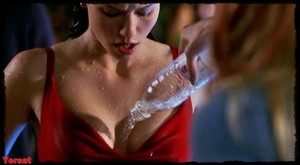 .
Cerina Vincent (born February 7, 1979) is an American actress and writer best known for playing Maya the Yellow Galaxy Ranger in the television series Power Rangers Lost Galaxy, as well as her film appearances in Not Another Teen Movie, Cabin Fever, It Waits, and Everybody Wants to Be Italian. She has written three books with Jodi Lipper, and writes a regular column for The Huffington Post.
Vincent was born on February 7, 1979 in Las Vegas, Nevada, to parents of Italian descent. Vincent loved to perform from an early age, encouraged by her mother, who was a dance instructor. She performed in a Christmas production at Diskin Elementary School, learning the lines for all the characters. She also appeared in productions at the Rainbow Company Youth Theater, which was sponsored by the Cultural Affairs division of Las Vegas. In 1996, at the age of sixteen, Vincent won the Miss Nevada Teen USA title and competed at Miss Teen USA. Though she made it to the top 15, she failed to place at the pageant (televised live), which was held in Las Cruces, New Mexico.
Vincent graduated from Durango High School in 1997, and moved to Los Angeles, where she attended Marymount College on a scholarship.
... more ...